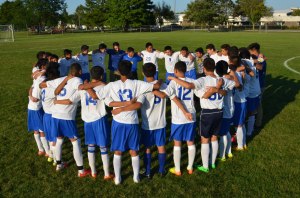 Head Coach: JP Morales
e-mail: soccercoach@cristoreystmartin.org
mobile: 224-425-3605
Assistant Coaches: Steve Pfeil (mobile: 301-367-2704), Alex Castrejon, Alex Arzate, and Jonathan Cruz
---
The highlights of the Fall 2017 CRSM Boys Soccer Program are detailed in the memo below.  The memo is addressed to CRSM Boys and Their Parents from Head Coach JP Morales. The memo also includes information about the Summer 2017 CRSM Boys and Girls Soccer Program.  To read the memo, please click on the link directly below.
Fall 2017 Boys Soccer Program Highlights (revised 6.20.2017)
Summer 2017 Boys Soccer Conditioning and Individual Skills Development Program (revised 7.2.2017)
Please address questions/comments about any aspect of the Boys Soccer Program to Head Coach JP Morales at soccercoach@cristoreystmartin.org.
---
11.1.2016 Announcement: On Sun, Oct 30, Boys Soccer had its end of season Awards Ceremony/Dinner.  At the event, the Boys Soccer coaches and players thanked all the parents, administrators, teachers, coaches, alumni, fans, etc. who supported the team and its players and coaches before and during the Fall 2016 season.  For a listing of all receiving special thanks, click here.  In addition, former Head Coach, Steve Pfeil, announced the Fall 2016 CRSM Boys Soccer Varsity Letter Winners, Scholar Athletes, and Special Awardees.  For a complete listing of recipients, click here.
---
10.18.2016 Announcement: On Tue, Oct 18, Boys Soccer lost, 1-0 in OT, to F. W. Parker in our area's IHSA 1A Sectional Semifinal.  The team finishes the season with a 13-3-3 (W-L-T) record against all opponents and a 9-2-2 record against varsity opponents.
---
10.15.2016 Announcement: On Fri, Oct 14, Boys Soccer defeated Northridge Prep, 1-0, to win our area's IHSA 1A Regional Final.  The team advances to our area's IHSA 1A Secional Semifinal vs. F. W. Parker on Tue, Oct 18 at 4:15 p.m. at North Shore Country Day School in Winnetka.
---
10.10.2016 Announcement: On Sun, Oct 9, the coaches of Section 4 of the Illinois High School Soccer Coaches Association (IHSSCA) met to discuss and select our section's Fall 2016 All-State, All-Sectional, and Honorable Mention All-Sectional players.  Ivan Perez (Junior) earned All-Sectional and Josue Soto (Senior) earned Honorable Mention All-Sectional recognition.  Congratulations to Ivan and Josue on an outstanding Fall 2016 regular season.  For the complete Section 4 list, click here.
---
Click here for the Fall 2016 Boys Soccer Roster (revised 10.13.2016).
---
Click here for Fall 2016 Boys Soccer Game Results
Click here for Fall 2016 Boys Soccer Game Summaries
Click here for 2016 Don/Raider Cup Results/Standings/Rules [Note: The 2016 Don/Raider Cup is a Boys Varsity HS Soccer Tournament hosted by Notre Dame College Prep (Niles, IL) and North Shore Country Day (Winnetka, IL).]