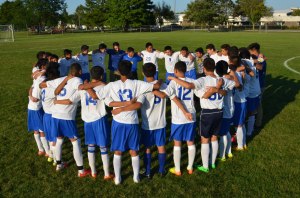 Head Coach: JP Morales
e-mail: soccercoach@cristoreystmartin.org
mobile: 224-425-3605
Assistant Coach: Yadira Gutierrez
Assistant Coach: Eric Soto
Assistant Coach: Jesus Martinez
Assistant Coach: Juan Bosque
---
Important Note 
Boys Soccer Season will begin Monday August 9. We welcome all young men of CRSM to participate an encourage increased participation with a NO CUTS policy. We do not want anyone interested in learning the sport to be discouraged from trying out by thinking they may not make the team. Therefore, if you attend and demonstrate our core values of Commitment, Dedication, Teamwork, and GRIT you make the team.
Below is our Fall 2021 CRSM Boys Soccer Program Memo, please read and become familiar with the information in the memo.
Fall 2021 CRSM Boys Soccer Program Memo
Please address questions/comments about any aspect of the Boys Soccer Program to Head Coach JP Morales at soccercoach@cristoreystmartin.org. 
---
Fall 2021 CRSM Boys Soccer Schedules & Roster
Fall 2021 CRSM Boys Soccer Schedule
---
Pre Participation Documentation for Athletics at CRSM: 
The CRSM extracurricular activity (eca) fee–$50.00 (Note: This fee is paid once per school year the first time a student participates on a CRSM Sports Team.  Fee is charged as part of the monthly billing cycle, so there is no need to submit this fee by check/cash to a coach or Mr. French.)