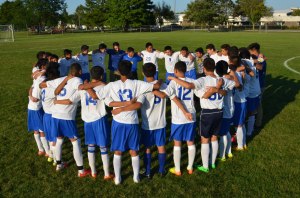 Head Coach: JP Morales
e-mail: soccercoach@cristoreystmartin.org
mobile: 224-425-3605
Assistant Coach: Alex Castrejon
Assistant Coach: Javier Sanchez
---
Fall 2019 Boys Soccer MASTER Schedule provides all important times, dates, and meeting locations for the season. Look here if you have any questions about those components throughout the season.
Knights Soccer Schedule 2019 link provided will navigate you to the Knights Soccer Schedule.
Fall 2019 Boys Soccer Memo address numerous important elements student athletes, parents and guardians need to know and understand prior to Boys Soccer Season.
---
Fall 2019 Boys Soccer Roster Coming Soon
---
Please address questions/comments about any aspect of the Boys Soccer Program to Head Coach JP Morales at soccercoach@cristoreystmartin.org.
---
07.9.2019 Announcement: On Monday, Aug. 12, Boys Soccer will begin their Fall 2019 Season. Student athletes that plan to try out for Fall 2019 Boys Soccer team need to complete and submit the following documentation prior to Monday Aug. 5. Tryouts will begin promptly at 5:50p-8:00p at Cristo Rey St Martin be sure to be on time and ready to go !
Pre Participation Documentation for Athletics at CRSM: 
The CRSM extracurricular activity (eca) fee–$50.00 (Note: This fee is paid once per school year the first time a student participates in an extracurricular activity.  Starting in Fall 2018, each family of an extracurricular activities participant is charged the eca fee as part of a monthly billing cycle, so there is no need to submit this fee by check/cash to a coach or Mr. French.) A $50.00 retainer will also be held at the beginning of the season. This retainer will be charged/not charged, depending on the players completion of their respective season.