A short movie about how our Work Study Program works:
There has been a lot in the news recently about the "Education to Employment Gap":
"75 million young people are unemployed – yet only 43% of employers report there are enough qualified entry-level candidates."– McKinsey & Company, 2012 Education to Employment Survey
"Organizations are struggling to find and secure the right talent for jobs as they become available–contributing to the largest talent gap in over 20 years." – The Economist, November 2, 2015
"Employers across sectors and geographies have difficulty finding workers with relevant skills; aspiring workers lack insight into which skills are in demand and access to the resources to develop their talents fully."  – Fortune Magazine, March 5, 2015
"The country is being forced to examine the ways in which it prepares its students for the working world. Graduating from a four-year college has long been viewed as the surest path to success. Yet many undergraduates are emerging with thousands of dollars of debt while still lacking a clear career path." – Chicago Tribune, January 6, 2016
What is your organization doing to tackle this issue? 
Consider partnering with Cristo Rey St. Martin. 
Every Cristo Rey St. Martin College Prep student carries a full course load of rigorous college preparatory coursework while working five 8-hour days each month at one of our Corporate Work Study Program (CWSP) business partners. Our partners are in industries including health care, consumer goods, financial services, engineering, architecture, law, education and non-profit organizations.
The CWSP experience provides students a platform to apply what they are learning and make connections to the world of work. Students also develop professional relationships that encourage success in college and throughout their lives.
For more information on our Work Study Program and how to become a CWSP business partner, contact Brian Weinberg.
Check out the CWSP News Archive, too!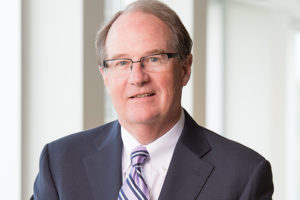 "We have been proud to be part of the Cristo Rey St. Martin Corporate Work Study Program for over 10 years.  We have seen many remarkable students during that time, who have consistently exceeded our expectations and made important contributions to our organization.  At the same time, this has provided a growth opportunity for our team members as they have a chance to learn and grow as mentors of these young people.  This truly is a program that works all the way around —  for the students, for us, and for our community."
Chuck Greener
Senior Vice President Global Communications and Corporate Affairs for Walgreens Boots Alliance, Walgreen Co.