We Are CR: Preston Kendall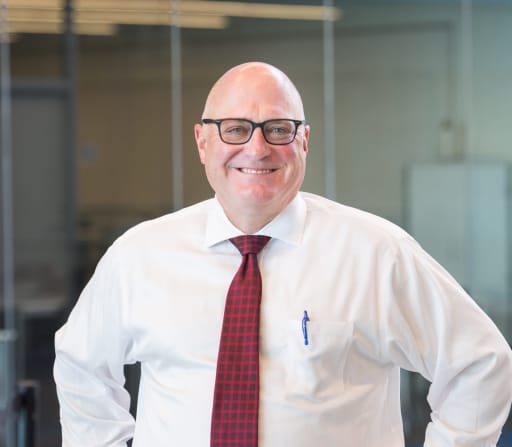 In celebration of Cristo Rey's 25th anniversary, "We Are CR" profiles will feature interviews with some of the many people who helped shape Cristo Rey Jesuit High School since its doors opened in 1996.
Preston Kendall was part of the founding leadership team for Cristo Rey Jesuit High School in 1996. As Executive Vice President, he took on the role of CFO while directing Cristo Rey's Corporate Work Study Program (CWSP).
In 2004 he became the first full-time employee of the Cristo Rey Network. After helping open the first 19 network schools across the U.S., Kendall left the network to be part of the founding team of its 20th school, Christ the King Jesuit College Prep in Chicago. He ran the Corporate Work Study Program for both Christ the King and Cristo Rey Jesuit High School from 2007 to 2011.
Preston is now the President of Cristo Rey St. Martin College Prep in Waukegan, IL, where he has served since 2011. 
Why does Cristo Rey matter to you? / What does Cristo Rey mean to you?
Cristo Rey is important because it stands as a community committed to equitable access to a quality education. A bachelor's degree is still the single most effective way for a young person to find upward economic mobility. Being denied access to a quality education simply because of family finances or a failing local school system is a social justice issue. Cristo Rey calls us to level the educational playing field so that our students can show the world just how talented they really are and make the world a better place.
In your opinion, what is the most important work that Cristo Rey has done?
Cristo Rey's commitment to academic excellence while providing a unique professional work experience through the Corporate Work Study Program for every student provides a profound package of encounters that supports students on their journey to adulthood and become agents for positive change in their community and the world. They discover more about who they are, what they believe, and how they are living out those beliefs in the actions. Every young person should have that opportunity.
How do you see Cristo Rey in the future?
Cristo Rey is only going to become more prominent. Ripples created by a growing alumni base entering the workforce in positions of authority and influence will continue to spread nationally as they "pay forward" the opportunities they found through Cristo Rey.
What advice to you have for the students of Cristo Rey?
Cristo Rey is a gift. Cristo Rey opens doors but you have to walk through them. It is totally up to you. Not everyone has the same opportunities; make the most of them and finds ways to create similar opportunities for others.
What is your best memory of Cristo Rey? / Do you have a message or story to share?
One valuable lesson I learned at Cristo Rey involved a student who struggled at her jobs. She ended up being fired twice and, from my perspective, was not making much progress. Concerned that she really didn't want to be a Cristo Rey, I thought we should ask her to leave. The CWSP staff came to me and said they really thought she was turning a corner and we should give her another chance. I reluctantly agreed still thinking she would never make it. But she did and finished strong her junior and senior years. The last time I saw her, she had graduated nursing school and was giving me a flu shot at a Cristo Rey health fair. Never underestimate the ability of young people to grow and flourish with the right people and supports around them!