Ryan graduated from CRSM in 2016, and received his Bachelor's degree in 2020. He is now working with a non-profit that focuses on supporting the development, growth and success of students in under-resourced schools. He is a full-time student success coach, partnering with classroom teachers in the city of Chicago, doing one-on-one tutoring and helping students cultivate social, emotional and academic skills.
The following conversation has been edited and condensed.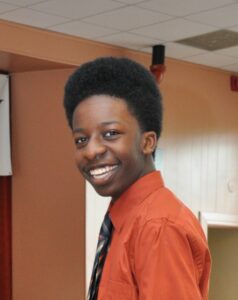 First, I have to bring up your moment of fame at CRSM – the picture of you in the 2014 CRSM Annual Report.
[laughing] Wow. That was really something. People were hanging the picture around the school, taping it to my desk. It was fun. My mother framed it and hung it in the house!
Of course, a proud mom. I'm going to include the picture in the article. Was she all in for you coming to Cristo Rey?
Oh yeah – way more than me. Luckily, she made the decision that I would attend CRSM; I wanted to go where all my friends were going.
I'm sure your CRSM experience ended up being quite different from your friends.
That's for sure. My friends and associates are always amazed when they find out about my work experience, especially my work at Takeda's pharmacogenomic testing area.
 That does sound impressive. You had good grades in all your subjects at CRSM, did you put in a lot of time?
I worked really hard. I would come home from school and take a nap, wake up and do more work, eat dinner, and then do more. It worked out well, but AP Physics…gave me fits. I also ended up in an advanced Spanish class which seemed like a mistake – but because of that, I cruised through my Spanish requirement at Loyola U. [laughing]
 The work certainly paid off. You were a Schuler Scholar and were awarded a Cristo Rey Scholarship, a 4-year full ride at Loyola University.
I wake up every day grateful for that. It changed my life in so many ways. Graduating from Loyola University debt-free is just part of the gift. When I was a freshman, my mother was quite worried; she was used to seeing excellent grades – I was struggling.
What happened?
The difficulty of transitioning to college surprised me – and my time management was poor. Luckily, my group of Cristo Rey Scholars were there for support – and Loyola steered me in a new direction. I was a Nursing major. It made sense; I knew I liked helping people and there was a clear need for male nurses. Only one problem, I just didn't like it. By chance, I happened to be in a psychology course when Loyola hired me as an Orientation Leader. That was it. I loved the job and I switched to psychology. My grades went through the roof.
So you graduated with a degree in Psychology and realized how much you like working with people; that's how you landed at City Year?
Yes. I really love working at City Year. I have to credit Ms. Hocter in Alumni Support at CRSM. She was important in my decision to join. I spend a lot of time working with students on their Biology and English homework, I work on lesson plans and sometimes I create video presentations that help, like explaining homeostasis. I also talk with students about the stress levels that come with remote learning.
What's next? Will you stay at City Year?
Not sure yet, some people do stay. I'm looking seriously at counseling and academic advisory careers. I'm thinking I will go to grad school to get my guidance counseling license.
As an aspiring counselor, do you have any lessons learned you could share?
Well, maybe for CRSM seniors. "You keep hearing about grit? Believe me, it will come in handy. The combination of being grateful, resilient and 100% committed made it happen for me."