"Open up and strive to learn more about yourself as a person. Raise your hand more and grab the opportunities that are being given to you." These are the words of wisdom, Mayra Tenorio, 28, Class of 2011 alumna wants students at Cristo Rey St. Martin to hold close to their hearts as they pursue their passions and build their futures.
"I had never expected much for myself, and college just seemed like one of those unreachable dreams," says Mayra, who at 11-years-old moved to Beach Park from Mexico with her mom and younger sister.
But as a high school student at CRSM, Mayra remembers feeling inspired and supported by teachers and administrators to contemplate life from a go-get-'me perspective, find herself and flourish. Her CRSM mentors promised the passion she felt to help immigrants, and especially exploited women, could transform the course of her life and her words and work would someday move and motivate the people around her.
Jumping into Action
During the last 11 years, Mayra has traveled to more than 10 countries across the globe to do exactly that. Most recently, Mayra has implemented leadership programs in Seoul, South Korea, serving as cross-cultural coordinator with the Asia Foundation and supporting a global leadership program for women through the Asian Center for Women's Studies at Ewha Womans University. She's chronicled women's survival stories in the Dominican Republic, Canada, Vietnam, Peru and Argentina, exploring how indigenous women in Guatemala mobilized and developed mental health and community practices to resist gendered violence.
Throughout the years, in between her journeys, Mayra returned to Cristo Rey several years ago and co-led two series of leadership workshops for female students. She worked closely with students to facilitate Know Your Rights workshops for undocumented families and chaperoned an exchange trip to South Dakota that brought together the historical struggles of Latinx and Lakota students.
Mayra's journey underscores the capacity of young people to grab life by the horns and make bold and courageous moves to widen the world of possibilities for themselves.
Bringing Light to the World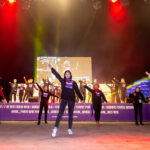 From an early age, Mayra has been interested in women's issues. As she grew into adolescence and early adulthood, she became more aware of and concerned with issues of marginalization and the violence experienced by so many women. She's always been inspired by her mom, Irma , who works as a housekeeper at Cancer Treatment Centers of America in Zion and raised Mayra and her sister on her own, despite great odds. "It was hard for my mom when we moved here and she has had to make a lot of sacrifices, but she heard about St. Martin and knew this was the place for her little girl to go and be the first in all our family to aim for college," says Mayra.
That led her to Swarthmore College, where she studied sociology and anthropology After graduation in 2015, she won the prestigious Watson fellowship and became a Gates Cambridge Scholar in 2017, where she completed an MPhil in Multi-Disciplinary Gender Studies at the University of Cambridge and conducted research on indigenous women's mental health groups in Guatemala. While in Korea, she supported the advocacy efforts of various Korean NGOs on issues around digital sex crimes and ME TOO. She also taught a class on gender for young Koreans in collaboration with the US Embassy and helped plan an interdisciplinary feminist conference for leaders across Asia. During COVID-19, she was tasked to be the sole coordinator for the Luce Scholars program in Seoul.
.
The Next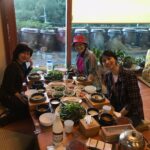 Now, back in Beach Park, Mayra is contemplating her "next," hoping to bring dedication to finding ways to uplift women and girls and empower changemakers around the world. Mayra aspires to grow as an educator and advocate that brings women's experiences and community voices to the forefront. "I'm hoping to work in a major city like D.C. or Boston for a foundation or non-profit," she says. "I saw during COVID how foundations were able to mobilize funds and resources quickly and directly to those who need them most. I want to be part of something like that."
When she's not sending out job queries, Mayra has been substituting teaching at CRSM, and in her "free time," watches Korean TV shows to keep her language skills honed.
"Ms. Eby, Dr. O, Mr. Dippold and the CRSM community have always been there for me," says Mayra, "They encouraged me to strive for opportunities that would challenge me and said if I worked hard, one day I would be successful. To this day, I continue to have the support of CRSM and feel very lucky to have a community that not only celebrates my successes, but will always cheer me on, on my way to accomplish more."