It might be five months until the May 1, 2022, National College Decision but CRSM seniors Claudio and Anthony have set their sights on the specific colleges/next launching pads where they can pursue their dreams and studies, they are passionate about.
Claudio, who holds a 3.82 GPA, was selected from more than 2,500 students to receive the Posse Scholarship. He will study computer science at DePauw University in Greencastle, IN, on a full-tuition scholarship. Posse and its partner institutions strive to empower diverse groups of leaders who will "transform communities, this country and the world."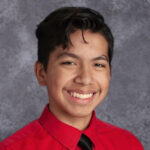 "At CRSM I've always learned to work hard to set high expectations for myself and to do work to make a difference to help others," says Claudio, who is a regular food bank distribution volunteer. "This is huge for my future."
Anthony has his sights set on Columbia College where he has been accepted and hopes to pursue his dream to study music arts. It's a dream come true for him and testimony to his hard work. Anthony had been a retreat leader and has been heavily involved in CRSM's fine arts program, playing flute in the choir (and the new Mariachi band), and winning the lead role in Dracula.
Both students will be the first in their families to attend college.
Awesome Acceptance Moments
'Tis the time of year when colleges are sending acceptance letters, and Claudio and Anthony's feelings of joy are not unique. Senior Yahir will attend the prestigious Grinnell College in Poweshiek County, Iowa, on a Questbridge, scholarship. Questbridge is a national nonprofit based in Palo Alto, California that connects the nation's most exceptional, low-income youth with leading colleges and opportunities. Yahir worked closely with the community-based College Bound OpportunitiesSeniors Emmanuel and Janissa have been awarded the Evans Scholarships, a full housing and tuition college grant offered to golf caddies.
"We are so proud of all of our students and their accomplishments," said Sharon Holdvogt, college counselor. "These scholarships, like the Evans, Posse and Questbridge, are really a testament to our students who have worked so hard throughout their high school years to get to this point! It's exciting to be a part of the process where they see all their hard work pay off!"
Life-changing Opportunities
Lori Felix, college counselor, added: "For the students and their families, this is a life changing opportunity. Many families are still feeling the financial effects of the pandemic and were worried about how they would afford the cost of their child's education. The students are all thankful to have received these scholarships because they're able to make their parents proud, follow their educational goals, and be part of incredible programs."
Anthony recently visualized his dream, heading for the first-time to downtown Chicago to visit Columbia College with his father. Because of COVID-19 pandemic restrictions, CRSM college counselors have not been able to offer the same level of college visits that occurred prior to the pandemic. However, they are offering some financial support for students to make individual visits with their families, and recently took a group of seniors to Lake Forest College. Seniors Mackenzy and Ashlee recently visited Arrupe in Chicago.
"The second I walked into Columbia, I felt like it was home," said Anthony. "I met with the heads of the department, and they interviewed me and told me about all the opportunities. I know this is the place where I can work hard to make my dreams come true."
Scholarships Streaming In
Janissa, a first-generation student and recipient of the full-ride Evan's Scholarship said: "The dream that I have always fantasized about as a young girl, has finally become a reality. My mother, whom I've always admired for being a strong and hardworking woman, has always told me, "No matter how long the path is, your time always comes." Though the scholarship committee will not make its decision until March, she has been accepted to Michigan State, Penn State, and the University of Illinois Chicago. UIC.
Last Wednesday, a National Louis University (NLU admissions representative was here to hand deliver some seniors their acceptance letters.
A total of 11 students were greeted with a nice surprise in the midst of a busy finals week. Laura Beaupre from NLU brought students a sweet treat as they celebrated the news that they got offered admission to the school. As the students ate their donuts, Laura explained to the students next steps and provided them with a short presentation about their school.
"it was a very nice surprise because I didn't expect it and we were the first people to receive our acceptance letter which I felt very honored and happy," said Gabriela. "I choose to apply to this school because I like how their school works."
In November, 18 students received hand-delivered acceptance packages to Hope College. Hope College is a four-year liberal arts college in Holland, MI.
Stay tuned for more success stories as the acceptances continue to stream in.