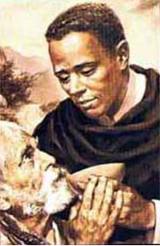 Cristo Rey St. Martin College Prep was founded as St. Martin de Porres High School in 2004 by a group led by George J. Rassas, now an auxiliary bishop of the Archdiocese of Chicago. Naming the school after St. Martin De Porres (December 9, 1579 – November 3, 1639), the patron saint of mixed-race people and those seeking interracial harmony, was a prescient choice. Born in poverty as the illegitimate son of a Spanish nobleman and a black former slave, St. Martin De Porres embodies the racial and ethnic makeup of our students and his life serves as an example of the values we strive to instill in them.
Quiet faith and service to others resonates with our own belief in Jesus Christ and being people for and about others. We added Cristo Rey to our name in 2012 to further portray our school's strengths to the world. The Cristo Rey Network continues to build strong relationships with colleges and universities. Several of these institutions offer scholarship programs exclusively for graduates of network schools. Cristo Rey is also the name best known to the hundreds of companies that participate in the network's Corporate Work Study Program and they recognize Cristo Rey Network alumni as people with unique professional experiences. These companies include many of the largest and most highly regarded businesses in the world, and it benefits our alumni to have Cristo Rey as part of their school name as they seek jobs in varied locations and across diverse industries.
St. Martin de Porres was especially devoted to the Eucharist, a manifestation of Christ's presence in us and in our world. Linking his name to that of Cristo Rey is completely consistent with his life of service to faith in Jesus Christ and Christian service to others.