Festivities at Cristo Rey St. Martin began on May 4th as the senior class gathered for activities at their last retreat and a Senior Send-Off Celebration

Saturday, May 29th 2021
Cristo Rey St. Martin Graduation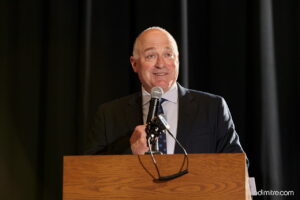 President Kendall's invocation and blessing spoke to the graduates relating to the upcoming Sunday's Gospel – "…I am with you always", reminding CRSM parents, family and graduates that Cristo Rey St. Martin has always been with them, and they will always be welcomed "home".
Principal Odiotti, having recently won the prestigious Golden Apple Leadership Award, spoke to the singular academic benchmarks of the 2021 class, describing their achievements as a collective success – made even more impressive because of the pandemic, noting that they have seen more change during their four years at CRSM than many see in a lifetime.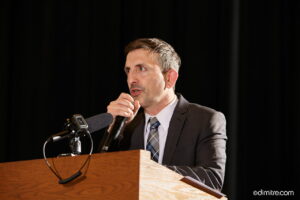 Dr. Odiotti recognized the accomplishments and academic benchmarks set by the Class of 2021:
100% of our graduates have been accepted into a

4-year college program

85% of students that started as freshmen in the fall of 2017 are graduating
the class' collective high involvement in service projects and social justice work
100% of the class met all requirements and is graduating together.
Class of 2021 was extremely active in our campus ministry
1st class to graduate from our new gymnasium
Members of this class were founding members the Black Student Union
1st participants in extracurricular art programs in part responsible for the addition of Art to the standard school curriculum.
This year's honorees: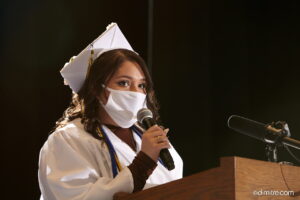 Valedictorian, Denisse Maldonado – Magna Cum Laude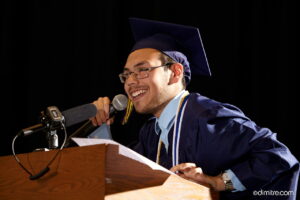 Salutatorian, Daniel Martinez – Summa Cum Laude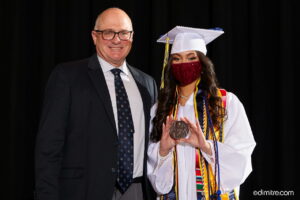 The Spirit of St. Martin Award – Amy Inestroza
Most Improved Academically – Alex Montoya
Outstanding Academic Achievement – Mario Rodriguez
Corporate Work Study Outstanding Remote Work – Brian Cambray
Corporate Work Study Outstanding On-Site Work – Jasmin Andino
Campus Ministry Leadership Award – Natalie Abarca
You can watch a recording of the ceremony here
"Things turn out best for those who make the best of the way things turned out."