On June 7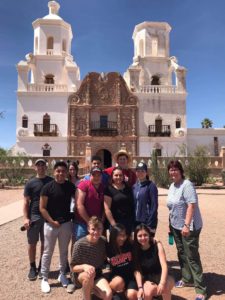 th, five Cristo Rey students supervised by Edwin Medina (CRSM '11), an accountant at Cristo Rey, arrived at Saint Xavier Mission in Tuscon – the oldest intact European structure in Arizona, often referred to as the "white dove of the desert".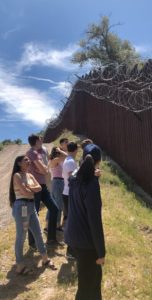 The group embarked on a week-long border immersion trip to join  Fr. Corey Brost, CSV, @brostcsv who leads groups to the border between Arizona and Mexico retracing the steps of migrants trying to cross the desert.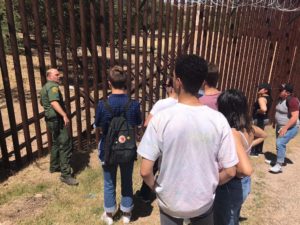 Together with several other high school groups, they reflected on the role faith plays in "welcoming the stranger." During the trip, CRSM students met with border patrol guards, Good Samaritan guides and celebrated Mass together – praying at the border for victims who have lost their lives.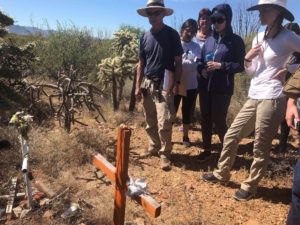 Mr. Medina noted, "Two of the gentlemen in our group travel the desert searching for people in distress. It's particularly disturbing to learn that much of their time is spent reporting dead bodies to the authorities and placing crosses at the spots where they died."
Quotes from our student travelers:
"Going on this trip to the border put things more in perspective for me. I can't even begin to imagine how immigrants that are out there for days without water feel. It was also heartbreaking to see the shrines of people who passed away in the desert, all of which were "Desconocidos" (Unknown). Of all of the thousands of people who have passed away while crossing the desert, most of them can't be identified. They have been lost and their families never get closure either, which is extremely sad to think about."

"There are myths repeatedly being told nationwide that immigrants are only hurting the U.S. But that isn't the case. I was privileged to be able to hear their stories and understand there viewpoints as to why they were coming to the U.S."

"It's absolutely devastating to know that so many people have to wait months to seek asylum in the United States and are forced to live in very poor conditions while they wait. To me, this is completely inhumane considering the fact that they can't go back to their home towns since most have fled from violence or dangerous situations."

"That gallon of water left out in the desert can really help someone on the verge of death. While walking the desert, I became a bit emotional but also more grateful and more appreciative of my parents, family and of immigrants in my community. These are just some of the many things that I experienced and learned more about on this trip."

"Throughout this trip, I felt extremely lucky to be living in the conditions I do. I was touched by the wall on the side of Mexico that told stories about individuals with strength, resilience, and hope. These beautiful pieces of art that radiate light in the midst of all this pain and serve as a symbol of the change we'll see one day. Our moral obligation is to simply help those we see in dire need and to be the instruments of peace and love. I will always remember that – and I'll never forget the families I met. Like a mother from the comedor said, "dios aprieta pero no ahorca". I'll always remember her words."