A Note from Marlene Eby, Assistant Principal
Hello to our CRSM Family,
On Monday March 30th, Spring Break ended and CRSM students began their e-learning programs. Prior to the beginning of e-learning, Dr. Odiotti and I were in contact with all of our teachers and our various teams working and meeting via tele-conference to prepare our students academically, socially and emotionally for this extraordinary time.  We have had important meetings with our alumni support team to strategize how to financially support and provide appropriate advice to our graduated students so they can continue attending college – albeit virtually.  Our work continues to be intentional and robust.
On a personal note, here at the Eby household we are all OK, despite the many unknowns.  My daughter is home from college; she already misses school and at the moment of my writing to you, is immersed in e-learning.  It's a huge adjustment!!! We decided to make her room resemble a dorm room: a mini fridge, coffee maker, microwave, etc.  This has helped.
We should all help one another as best we can.
Stay well,
Marlene
How resilient are our CRSM students?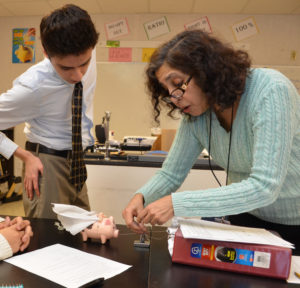 The College Board has had to revamp the AP tests this year due to COVID-19. As we all can imagine, there has been some chaos – information was at a premium about how testing was going to look and how to resolve the problems. Students are worried.
Not long ago, the College Board promised to release new resources to help AP teachers prepare their students.  On March 25th, the first resources were made available.  Though CRSM students were technically on spring break and not required to do any coursework, fourteen out of fifteen AP Physics students managed to take advantage of the College Board's first day of new resources.
Ms. Bonnerjee, a science teacher at CRSM was quoted as saying,"I just wanted to tell someone about this. The College Board has started a daily AP Physics review lessons on YouTube live stream. So, I got my AP kids started on that, they had to take notes and upload their notes to Schoology within 45 minutes of the end of the stream. Yesterday was the first day. Fourteen students out of fifteen managed to participate, that was awesome."
A Sampling of Topics Dr. Odiotti recently shared with faculty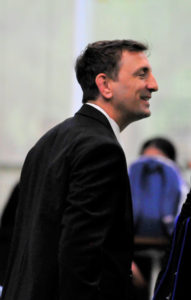 As we head into e-learning next week, I wanted to share some thoughts, ideas, and learnings from other schools that have been in e-learning mode for a few weeks.
Simplify, simplify, simplify. Every principal I have spoken with has indicated students have been overwhelmed by managing school work in an electronic environment on top of managing home responsibilities. Let's do our best to start with easy wins and work that students can accomplish successfully.

Build knowledge of the discipline you teach with your students.
Have students read purposefully and often.

Take care of yourselves – Many teachers at other schools reported feeling overwhelmed, as well, trying to manage the workload and their own family responsibilities. Again, start slow and easy, and do not overdo it.
Keep notes on what works and what doesn't in this new context- We can collectively utilize this information to continue to modify what we are doing.
Communicate, communicate, communicate – In reaching out to students, utilize all avenues of communication possible, including calling home.
May we always seek ever to excel,
Mike