On Friday, May 17th, seniors traveled to the Viatorian Province Center in Arlington Heights to attend their last retreat before graduation. The Viatorians were one of the founding religious communities to support Cristo Rey St. Martin when it opened in 2004.
Fr. Dan Hall, CSV, Provincial, together with Fr. John Milton, CSV, a science advisor to the school, welcomed the students and encouraged them to see their graduation "as a doorway to the future."
Jon Taus (faculty, Social Studies) remarked about the sense of community present at the retreat, "The students were treated to a photo montage of their time at CRSM – it was wonderful to see them realize how they had grown, not just physically but intellectually and socially as well."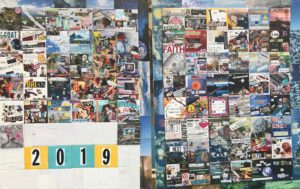 Continuing a CRSM tradition, students created a tile board to express where they have found God's goodness along their journey. The finished piece contains a tile created by each student and is on display in the foyer at CRSM.
Jim Dippold, the Director of Campus Ministry said, "This day was an opportunity to step back, share pictures and stories from the past four years and recognize God's presence and goodness in all the holy moments of grace and growth along the way."
The retreat closed with a Taizé prayer liturgy in the Province Center Chapel. During the closing prayers, seniors experienced a touching moment of surprise as they read personal letters of congratulation, support and encouragement from family, Cristo Rey staff, CWSP supervisors & co-workers.