With a firm strategy of requiring vaccination, masks and other public health protocols, CRSM students, teachers and staff are successfully back in school and poised for a strong academic, work and service life undefeated by the disruptions of the past year and a half of the coronavirus pandemic.
"This a monumental, magical moment," President Preston Kendall said, welcoming more than 450 students, teachers and staff for the first gathering together in two years.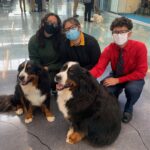 Despite the challenges of the pandemic, CRSM has returned impressive numbers during the last year outpacing projections, said Dr. Mike Odiotti, principal. At the assembly, he shared impressive evidence of the achievements from the 2020-2021 school year, and projections that the new school will continue the upward trajectory:
• 84% of the students earned AP credit on at least one AP exam – almost triple the 2020 State average of 29%, and more than double of the 39 % in 2010-2011
• CRSM retention rates are more than 80%, the highest in the Cristo Rey Network, compared to the lowest rates, less than 40 %, in 2008
• Nine students this year are being considered for the Posse Foundation full-ride scholarship, compared to seven total in the school's history and four nominated with two winners last year.
Calling it "a huge testament to the great work being done at CRSM," Odiotti shared thoughts he received from one of the leaders of the Walton Family Foundation, following her onsite visit:
"I visit many, many high schools, but I don't recall seeing a high school where every student, in every classroom, was on task about creating high quality work like they are here," said Abigail Schumwinger, program officer for the Walton Foundation.