On June 15th, CRSM began its academic summer programs. Summer school classes begin at
7:30am and end at 1:00pm.
Teachers Michael Appel, Jacob Larson, Kumkum Bonnerjee, Elizabeth Partenach and Darline Gonzalez are running the Summer Bridge and Enrichment Programs for incoming freshmen and sophomores – testing schedules and combinations of in-person and remote synchronous and asynchronous learning opportunities.  Their experience will inform the Academic Department for the return to classes in the fall.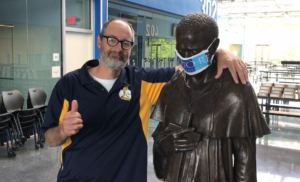 Watch this short video clip
Orientations were held and significant changes to the building were made prior to student's returning to in-person classes.
Plexiglas barriers were installed in high traffic locations. i.e. front desk.
Hand sanitizing stations have been installed throughout common areas in the school
Touchless fixtures were installed in the restrooms
Disinfecting regimens are in place
Updates have been installed to HVAC systems to improve air quality
As students come back together, they are embracing new behaviors to protect and care for one another.
Quick health histories and temperatures are taken before entry to school building
Wearing MASKS at school at all times
Practicing SOCIAL DISTANCING, staying 6 feet away from one another
Practicing FREQUENT HANDWASHING for 20 seconds and/or use of hand sanitizer.
Numbers of people in the building at one time are limited, visits are by appointment only
10 desks in a classroom, 6 feet apart
12 feet between instructional wall and first row of desks
Each classroom is used only once during the day
No sharing of any classroom materials
from the desk of Dr. Michael Odiotti
       I want to thank everyone for their hard work this past academic year – especially given the way our country was turned upside down this past March.

Our team, once again, achieved some tremendous results and some all-time bests in terms of key metrics. One metric that speaks to our culture of care and support is, that for the first time in our school's history and in Cristo Rey Network history, we hit a benchmark of 92% student retention for the Class of 2020 from the Fall of Freshmen Year to Graduation. Also, the class was the first to have every graduate accepted into a BA/BS program. I think these two data points are evidence of the tremendous work of our entire community.

This year the incomplete rate was less than .5% (13 incomplete credits) for the second semester, matching our all-time best that we achieved for the last two years.
We eclipsed our goal of at least 95% of students maintaining a 2.0 at the end of a semester – this year, 98%.

Furthermore, 81% of the student body achieved a 3.0 for the semester. This mark is also an all-time high for the 2nd semester. We also exceeded national annual growth rates in 4 out of the 4 MAP tests we administer annually; this past semester, students took the test from home.

Finally, I'd like to introduce our new academic staff members who will be joining us for the upcoming year:
Michelle Santoro – An experienced History teacher with a special education endorsement
Roy Triveline – An experienced Science Teacher with deep experience with AP Bio at Warren High School