Many people know that Discover Financial Services is a leading partner for Cristo Rey St. Martin's (CRSM) Corporate Work Study Program. What many don't know is the corporation administers a highly developed and far-reaching volunteer program called Discover Cares, which empowers their employees to give back to the community.
On October 25th the entire CRSM junior class (94 students) traveled to Discover's corporate offices in Riverwoods, IL to participate in what has become a popular day of learning and service.
Jurisprudence in the Morning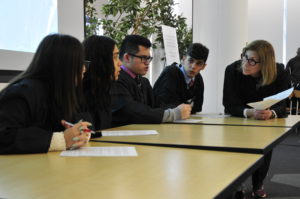 The class spent the first half of their day participating in mock oral arguments. Written, presented and moderated by the Discover legal department, the program has become a highly refined seminar about the path to the Supreme Court. Students learned about illegal search and the limits of the 4th Amendment through the seminal court case of Illinois vs. Wardlow.
The students were divided into three groups; respondents, petitioners and judges. They were then asked to study some basic case law in order to help them formulate effective arguments.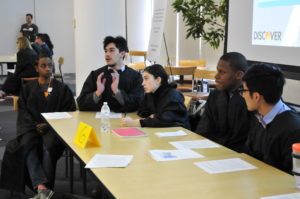 The mock defendants, plaintiffs and judges assumed their roles, presented arguments and made decisions about the case. Arguments from both sides were made regarding the protections under the 4th Amendment. Students did not know the outcome of the real case until they heard actual recordings of the Illinois attorneys making their arguments in 2000.
President Kendall spoke to the group about the values that Cristo Rey and Discover share – civic involvement, volunteering and giving back to the community.
Michael Gray, the facilitator of the mock oral arguments session noted, "I was very impressed with the arguments of the petitioners and the respondents. A few were more compelling than some of the actual arguments that were that day."
Animated conversations continued about the landmark decision during the lunch break.
Helping Foster Kids in the Afternoon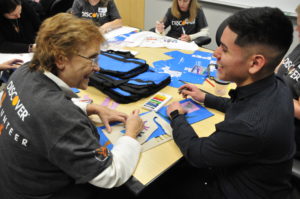 The second half of the day was spent partnering with Together We Rise (TWR), a non-profit organization dedicated to transforming the way kids experience foster care in America. The goal was to build gifts for those children.
In Chicago, kids entering foster care receive two trash bags containing their essentials.
But on this day, Sweet Cases and Superhero boxes – all with hand-decorated messages of care were delivered as an alternative to those trash bags. Working side-by-side, Discover volunteers and the Cristo Rey juniors built over eighty bicycles and fulfilled and decorated more than sixty Sweet Cases and Superhero Boxes.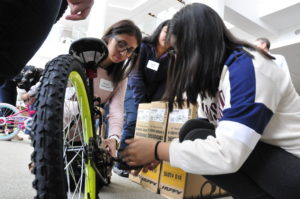 All the bicycles, helmets, cases and boxes were quality checked and delivered immediately to the children.