"We couldn't exist without you," Preston Kendall, Cristo Rey St. Martin College Prep president told the more than 100 Lake County business men and women who braved the record-breaking -30 degree wind chill that gripped the Chicago area Feb. 19, 2015 to gather at W. W. Grainger in Lake Forest for the school's Mid-Year Business Partner Meeting.
Thanking the crowd gathered, Kendall said that next fall, 63% of the school's budget, which helps to cover the $11,330 cost per student, is predicted to come from Corporate Work Study partners for the anticipated 400 students who will be enrolled for the 2015/2016 school year. That's up significantly from 37% in 2012 for the work-study program which is integral to the school's financial and educational objectives.
"We know that there is a direct correlation between household income and college graduation," said Kendall, who added that the average household income for CRSM families who average 4.8 people in size is $35,120. "We want to reverse those circumstances for our students. "Because of all of you, this is possible. Thank you for working with us to offer our students this life-changing work experience to be mentored by professionals like you and to go on to college and thrive there."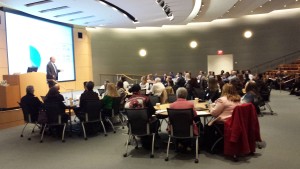 "That support from the business leaders at companies and organizations large and small, including the Chicago Botanic Garden, Discover Financial, Aon Hewitt, Abbott Laboratories, Walgreen Co. and Lake County Government is making a difference," Kendall added.
Consider the impact:
Driving Success with this Innovative Business Model
• Job partnerships have grown to 79 full-time jobs (four students per job or 316 students) from 43 jobs in 2012.
• The retention rate for paid jobs increased to 95%, up from 78% in 2012.
• CRSM transports 100 students a day to a demographic territory from Pleasant Prairie in Wisconsin, south to Touhy Avenue in Skokie and west to Antioch.
• The job price for a team of four students has jumped to $29,900 from $25,500.
• 11 companies, the highest number ever, offer more than one job, and in some cases, 6.25 full-time jobs for students. They include: Takeda, Abbott Laboratories, Abbvie, W. W. Grainger, Discover Financial Services, The Lake County Clerk of the Circuit Court, Walgreen Co., CDW, Hospira and The Advanced Group of Companies.
New Business partners for 2014/2015 include: Advocate Condell Medical Center, CDW, Good Foods Inc., Lake County Circuit Court, Lake County Public Works, Lake County Transportation, Northwestern Lake Forest Hospital, Pasquesi Home & Garden, Stericycle and United Conveyor Corporation.
Achieving Academic Excellence
• High School Graduation rate: 98%, compared to 60% at nearby Waukegan High School and 50% at North Chicago High School.
• Nearly 100% of CRSM graduates are enrolled in colleges and universities ranging from Carthage, Emory and Georgetown, to Holy Cross, Loyola and Marquette.
• Scholarship support continues after graduation. The Class of 2014 was awarded $5.4 million in academic scholarships.
• Advanced Placement (AP): With nine AP and college-level courses, with 235 enrollments, Cristo Rey St. Martin is steadily growing its highest level curriculum offerings.
• Retention rate has more than doubled to 83% in 2014, surpassing the Cristo Rey Network average of 55%, and a dramatic jump from 38% in 2004 when we started. CRSM has the second highest retention rate in the 30-school national Cristo Rey Network of schools.
• 2014 largest graduating class in our 10-year history with 60 students.
• 5 prestigious scholar organizations sponsor CRSM grads (Gates Millennium Scholars Program, Golden Apple Foundation, Horatio Alger Association, Loyola University Cristo Rey Scholars, and Marquette University Urban Scholars).
• CRSM was named one of "America's Most Challenging High Schools," by the Washington Post, for the third consecutive year, a recognition achieved by only nine percent of high schools nationwide.
• During the fall of 2014, CRSM had the highest percentage of students on the honor roll in the school's history.
• In 2014 we welcomed 105 freshmen, our largest class ever; 110 students on track to enroll for 2015-16 school year.
Extracurricular Activities
• Summer Enrichment Programs Span the Globe: From Thailand, to Washington D.C. and from Yale to the University of Missouri, 37 students experienced enrichment programs outside the classroom during last summer.
• Our students performed 2,600-plus hours of community service in Lake County last year.
A presentation on "A Supervisor's Guide to the Adolescent Brain and Three Key Strategies for Shy/Non-Assertive Students," was given by Erin Walsh, M.A., of Mind Positive Parenting. Also Stefanie Goy, director of academic support for CRSM, shared an overview of the school's innovative Academic Aid Program, which merges academic assistance and literacy support, and which she and fellow teacher Sarah Morley presented to Cristo Rey Network principals gathered in Los Angeles.