Our students want to learn and our teachers want to educate.  Our students are willing to work and our families are willing to sacrifice.  Will you help Be The Difference?
With an average family income of $39,287, for a family of about 4.6 people, 84 percent of our students qualify for the federal free or reduced lunch program. Each student works for one of our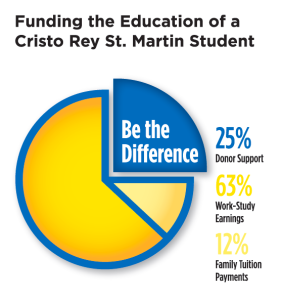 Corporate Work Study Program partners and contributes his or her salary toward the cost of education at CRSM. In addition, each family pays tuition based on their personal and financial situation.
But still, we need more support to serve our students from the Waukegan and North Chicago communities so that they can succeed in college, the future workforce and in life.
The Adopt-A-Student Program funds the cost of education remaining after the Corporate Work Study earnings and family tuition payments. On average, we need about $4,000 per student in financial help to cover the cost of education, and our enrollment is nearly 400 students.
AGAINST ALL ODDS…
90% Latino, 8% African-American, 2% Other
$39,287 Average Income for CRSM Families annually (Avg family size is 4.6)
$8,544 Average Per Capita Income for CRSM Students annually
Residency: 82% Waukegan, 13% North Chicago, 5% Other Lake County
84% CRSM Students Qualify for Federal Free and Reduced Lunch Program
<20% of Students in Neighboring Public High Schools Students Meet Illinois Academic Standards (IL Report Card)
… CRISTO REY ST. MARTIN IS BREAKING THE CYCLE

275 Enrollments in Advanced Placement (college-credit level) courses
2,600+ Hours of Community Service offered by CRSM Students
97% Students Meet/Exceed the professional expectations of their CWSP Supervisors
82% Persistence of CRSM Freshman to Senior Year from Class of 2016
94% Acceptance to 4-Year Colleges and Universities of Class of 2016
70% 4-Year College Enrollment of Accepted Students
100% Graduation Rate from Class of 2016
Adopt a Student by filling out the payment form below, or by mailing a check to:
Adopt A Student Program
Development Office
Cristo Rey St. Martin College Prep
501 S. Martin Luther King Jr. Ave.
Waukegan, IL  60085
Questions?  Contact Candice Tonon in our Development Office at 815-519-0513.