Many companies claim investment in the communities that their employees call home, but it is at the intersection of educational innovation and the workplace where Cristo Rey St. Martin College Prep and Discover Financial Services find themselves in true alignment, forging a mutually beneficial relationship.
The partnership, which began in 2010, has been growing steadily and yielding positive results for Discover, Cristo Rey St. Martin and the local community in northern Illinois. Through Cristo Rey's Corporate Work Study Program, twenty-eight students come to work at Discover every week, filling 7 full time equivalent positions across 8 different Discover Business Units.  In addition, the Discover Brighter Futures Fund funds a team of Cristo Rey St. Martin students (4 students) at work at the Boys and Girls Club of Lake County.
The money that the students earn through this program covers 60% of the cost of their college preparatory education.  For most of these students, they will be the first in their family to attend college. The skills they learn through working at Discover open their eyes to future career paths that they had not considered before.  Graduates of Cristo Rey St. Martin are returning to the area and Discover working as college interns in our internship programs.
Among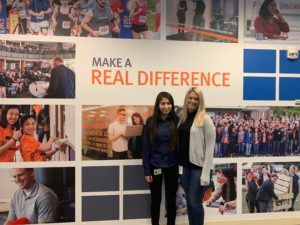 the forty Discover employees involved as supervisors and fifteen Discover employees who serve as mentors to the students is Katie Bondi, Manager of Executive Recruiting in Discover's Human Resources department.  Katie has this to say about Kelly T., CRSM Junior with whom she has had the pleasure of working, "Kelly has been an absolute joy to work with over the years. I am surprised everyday by her willingness to take on new challenges and quickly learn. She is always willing to learn and she has built great relationships throughout the entire HR team. I have no doubt that she will achieve great things after the program and I can't thank her enough for all of the hard work and dedication to our team."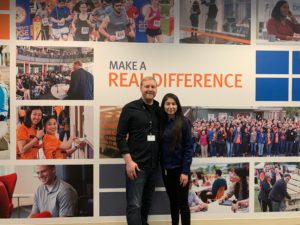 Benjamin Baney, On-Site Immigration Specialist in Discover's Human Resources department also has the opportunity to work with CRSM Junior Kelly T.  He added, "Kelly and I have been working together for the past 2.5 years, and I cannot express how essential she has been for me and my team when it comes to Discover's immigration program. In the current climate, regulations can change rapidly, and Kelly has assisted with these changes with ease. Her willingness to take on tasks with passion has been a joy to experience."
Kelly, while merely a high school junior, stands out at work as a result of her attention to detail and inquisitive mindset. Since she started working in Human Resources her freshman year. Her knowledge has grown exponentially, and she now has the ability to make suggestions or provide feedback on strategies within the business unit.
For ideas on how students like Kelly could be an asset to your company, please look at the What Students Do section of our website.