Throughout the month of November, CRSM celebrates the Feast of All Souls and  Diá de los Muertos – when we honor our deceased loved ones and believe in our continued connection with them.  A central mystery of our Christian faith is that love never ends.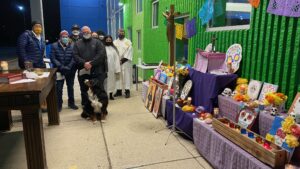 On November 2nd, at 7pm, Fr. Corey Brost, CSV celebrated a bilingual, outdoor Mass to pray for the lives of those who have gone before us.  The Mass was live streamed on Facebook:  CRSM Facebook livestream.
S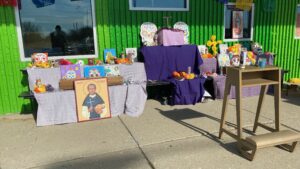 tudents were invited by the Sociedad Honoraria Hispánica to leave offerings and to spend some time in prayer by the ofrenda outside of the school.
During the Feast of St. Martin de Porres, the new chapel was opened for prayer. Students were invited to stop by during a study hall or lunch, light a candle, take time for quiet prayers and contemplation and listen to music.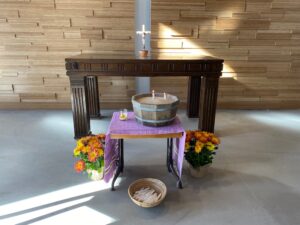 Nov. 22nd was the Feast of Christ the King or, in Spanish, La Fiesta de Cristo Rey. When the founders of the first Cristo Rey school were developing their model of education in the 1990s, they decided to take this title for Jesus as the name of their school.  The name of our network, and the name of our school, is an invitation and a challenge to see the world with God in charge.  Viva Cristo Rey!
This is the first week of Advent
Advent is the beginning of a new year and a holy season to prepare for Christmas – the birth of Jesus into our world and the presence of Christ in our lives.  Students were introduced to Visio Divina, allowing God to speak to the heart and mind through sacred art.  Students were invited to take 2-3 minutes for quiet prayer and reflection – to sit in silence, breathe deep and allow the image and the music to speak to their hearts.
You are invited to listen and watch in meditation here
artwork: The Holy Family, Fr. John Giuliani; music: Joy to the World, John Fahey
start the video and view full screen
/AF1QipNBVtCIufGHuAzQA6rNXWesam1F1lCweHlhFoy38VJo3clHQTlhMXpiAKIo14PZaQ?key=QTAyUkpHaHV0b0JpLUFTYWVoTG5faV9rbGJXWk9n
Nov. 2, the Feast of All Souls and our celebration of Diá de los Muertos.  https://photos.google.com/share