On November 16th, five Cristo Rey St. Martin students traveled to Washington, D.C. to attend the Ignatian Family Teach-In For Justice. For the sixth consecutive year, Jon Taus (CRSM Social Studies Instructor) headed-up the trip which is sponsored by The Ignatian Solidarity Network.
Over 2000 students, which included twelve Cristo Rey Schools from around the country, descended on Capitol Hill to hear from internationally renowned speakers, pray, network, and advocate for justice. It is the largest annual Catholic social justice gathering in the United States.
To prepare for the trip, Mr. Taus met with CRSM students weekly to build community, set the foundation for the Teach-In weekend, and prepare for a meeting at the office of U.S. Representative for Illinois' 10th congressional district, Brad Schneider.
The students who applied in early September (three Seniors, one Junior and one Sophomore), left Chicago at 6am for D.C. and immediately upon arrival, headed out for an "early am" walking tour. The trip included the Lincoln, Jefferson, FDR and Martin Luther King Jr. Memorials.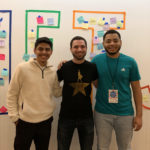 Josh Washington (CRSM '17  Loyola Chicago '21) and Marco Vasquez (CRSM '18  Villanova '22) alums of the Teach-In, accompanied students this year.
The Cristo Rey group decided to focus their legislative advocacy on climate change and environmentalism. Congressman Schneider's office agreed to schedule a meeting with the delegation; Mr. Tommy Brown, Legislative Assistant at the U.S. House of Representatives, listened to CRSM students' concerns and formal support for specific bills that would affect local flooding and air pollution issues near the Cristo Rey St. Martin Campus.  A follow-up meeting with Mr. Schneider's office is in the works to discuss his upcoming co-sponsorship of bills as a member of the House Ways & Means Committee.
The Teach-In is a place for attendees to be empowered and inspired by and with a community that sees faith and justice integrally linked. Now in its 22nd year, the Teach-In and the Ignatian Solidarity Network has a rich history rooted in social justice.
When asked about his takeaways after six years of leadership, Taus said;
"Each year, at the end of the Teach-In, I see the impact and the power that this program has. It is overwhelming for students at first, but after they've finished, they start to believe it when I say, This is what you could do – there is no reason why you can't be part of this."