Armed with lessons learned from a successful summer school session, Cristo Rey St. Martin has implemented a comprehensive, hybrid strategy for teaching and learning.
It's been only 38 days since CRSM said goodbye to the Graduating Class of 2020 but CRSM has already finished its first two weeks of the 2020-21 school year.
In response to the Covid-19 pandemic, CRSM created a hybrid teaching/learning strategy that combines synchronous and asychronous methods which meets all CDC and ISBE guidelines for the safety of teachers, students and work-study supervisors. No simple task, considering the additional work-study component that Cristo Rey schools must accommodate.
In addition to transforming CRSM's 30-desk classrooms into spaces that exceed social distance recommendations, a new schedule had to be created.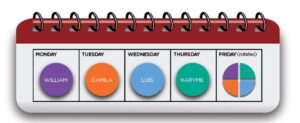 It is always a challenge to explain how, on any given day, 1/4 of the CRSM student body is out of the building at their work study job, while still managing a full college prep course load.
A cursory look at the class schedule below, which by the way, the CRSM student body has embraced and mastered, illustrates the complexities that Dr. Odiotti and the Academic Department faced in planning the school year.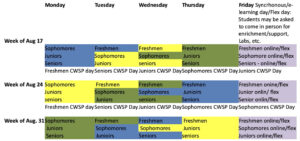 When asked about the initial successes of the plan, Dr. Odiotti made it clear, "We must stay nimble and flexible. This is especially true now in regards to managing the realities of this pandemic. We need to realize that we will have to constantly adapt and change what we do this academic year to ensure that we offer the best and safest educational experience possible."