Sean Aiken is the creator of The One Week Job Project – a journey across North America in which he worked 52 jobs in 52 weeks to find his passion. He's often featured in the media, including: The New York Times, The Wall Street Journal, and Good Morning America.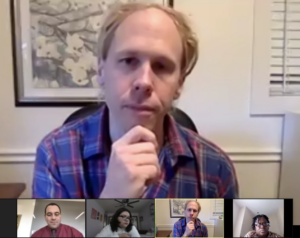 In a ZOOM call with the student body, Aiken spoke in detail about his successes and failures and his search for purpose. He oriented his talk to the high school "mind-set", clearly defining his discoveries about what makes people happy in their career and their lives, and how to navigate fear.
Mr. Aiken opined that he would have benefited from a Cristo Rey Corporate Work Study education-
"Speaking to CRSM, I decided to use stories from my One Week Job experience to explore different themes and lessons I've learned. In particular, I wanted to emphasize that it's okay to not know exactly what you want to do, that you're not alone, that people want to help you on your journey."
His presentation was met with an overwhelmingly positive response, taking questions during the last 20 minutes of his presentation.

If you know of any companies that could benefit from our corporate work study program, please contact Brian Weinberg at: 224-219-9724  BrianWeinberg@cristoreystmartin.org