BORDER IMM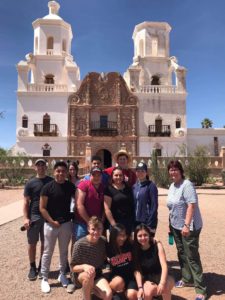 ERSION TRIP   On June 7th, five Cristo Rey students supervised by Edwin Medina (CRSM '11), an accountant at Cristo Rey, embarked on a week-long border immersion trip to join Fr. Corey Brost, CSV, @brostcsv who leads groups to the border between Arizona and Mexico retracing the steps of migrants trying to cross the desert. During the trip, CRSM students met with border patrol guards and Good Samaritan guides – later celebrating Mass together, praying at the border for victims who have lost their lives.
____________________________________________________________________________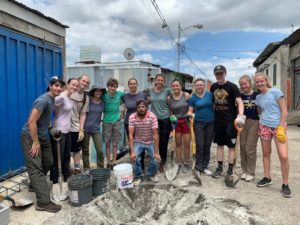 TRIP TO COSTA RICA   In July, two CRSM students traveled to Costa Rica on a scholarship from the Ellie Burns Foundation for an outdoor learning & service experience – 2 weeks helping with light construction, working at a day care center and pitching in at a sustainable coffee farm that supports a local community. The students will give a full presentation describing their experiences to the student body.
____________________________________________________________________________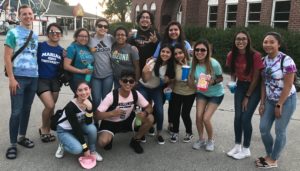 YOUNG NEIGHBORS IN ACTION     In late June, twelve Cristo Rey St. Martin students left Chicago for Green Bay, Wisconsin to participate in a week-long service/retreat. Young Neighbors in Action (YNIA) focuses on missions that include volunteering at soup kitchens, homeless shelters, abuse centers and Habitat for Humanity sponsored projects. The group, accompanied by Jacob Larson (Theology) and Melissa Chavez (Director of Alumni Support/College Completion), joined forty-five students from Texas, Ohio & Southern Illinois to focus on two direct service efforts helping to ease people's pressing needs.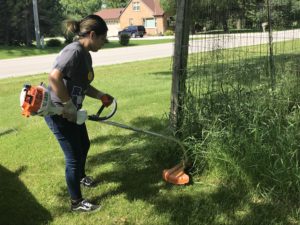 Two days were spent on a physical project – doing yard work and maintenance for seniors still living in their own homes. Lawn mowing and clean-up was the order of the day.
Half of the trip was spent at assisted living facilities. Students spent time socializing and getting to know the residents. A "potted plant" project was organized; students paired with a resident to paint and glaze a ceramic pot – the new home for a young Aloe Vera plant which each resident took back to their room.
Mr. Larson said, "I was impressed by how comfortable our students were socializing with the residents. There were real and meaningful connections being made." Ms. Chavez added, "I think we were all affected by the residents, some of whom hadn't been visited by family in quite some time."
The trip was highlighted by an "all team" side trip to Bay Beach Amusement Park, located on Green Bay's waterfront.
You  are  invited  on  September  6th  at  8am:
Fr. John Foley, SJ, founder of the first Cristo Rey school and Chair Emeritus of the Cristo Rey Network, will preside at The Mass of the Holy Spirit.