Over the Summer…
The CRSM Campus was bustling in June, July and August. Classes included: Boot Camp for AP Biology, English, Math, Accelerated Math and Boot Camp for AP US History.
Off-campus academic pursuits were no different; as thirty-two students enrolled in college summer education programs. The choices and programs that students chose was wide ranging – from Animal Science to Cinema to Medicine. Here is a partial list of schools that were attended:
Ithaca College     St. John's College     Smith Young Women's Writing Institute     Cornell College
University of Pennsylvania     Barnard College     Stanford University     Colorado College     Brown University
Hobart and William Smith Colleges     Wabash College     Northern Illinois University     Augustana College
Western Illinois University     DePaul University      Eastern Illinois University     Wofford College
Rosalind Franklin University     Marquette Leadership Program     Illinois State Analytics Academy    
ACLU Summer Advocacy Program     Loyola University     Northern Illinois University Health Science
University of Wisconsin Madison Business Emerging Leaders (BEL) Program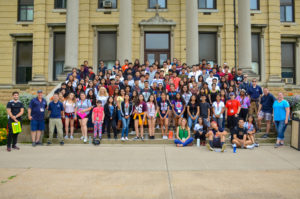 COLLEGE VISIT   On the 17th of July, 106 CRSM freshmen traveled to St. Mary's University of Winona, to take part in one of the most innovative freshman programs in the country – a "live-in" college campus experience. Now in its seventh year, the program was described by school President Preston Kendall as "a way to give incoming freshmen a positive rite of passage from grade school and childhood to high school and adulthood."
COLLEGE FAIR   In July, college counselors, Sharon Holdvogt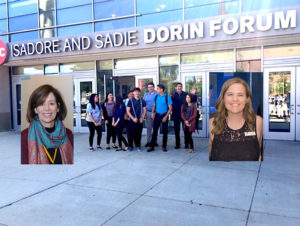 & Beth Kainic, accompanied ten rising CRSM seniors to the 5th Annual Scholars College Fair at the University of Illinois. The event brings in over 150 colleges and universities from around the country to meet the new class of 2020 and is a prelude to the huge Onsite Admissions Forum that will take place at Navy Pier this coming October.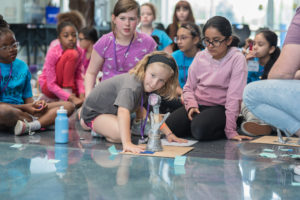 SUMMER SCIENCE CAMP   Cristo Rey St. Martin hosted a week-long learning experience for one hundred and thirty 3rd – 8th grade girls. STEMgirls Summer Camp offers an opportunity to learn more about careers in science, technology, engineering and mathematics (STEM) through challenging and fun hands-on activities.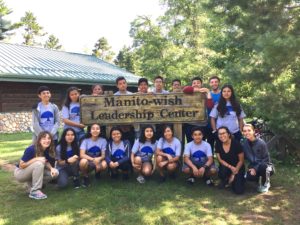 SCHULER SCHOLARS CAMP   Fifteen students went on a 10-day trip to Camp Manito-wish in the wilderness of Wisconsin building relationships with their cohorts, learning more about themselves and their strengths, challenging themselves in a safe environment, and learning to use their resources.
___________________________________________________________________________
Back to School…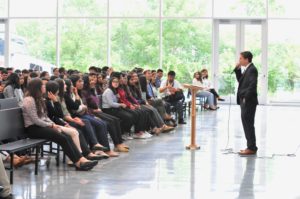 August 19th: CRSM's first day back to school. School assembled at 8:00 am to hear Mr. Odiotti's address to the student body which included student successes and, as always, pertinent data, e.g., current percentage of jobs awarded to people with bachelors degrees or higher.
September 27th: Forty Colleges and Universities will be on campus for the Cristo Rey St. Martin College Fair