Normally, December would find Campus Ministry busy organizing events such as: all-school TAIZE prayer services at CRSM, transporting groups of 15-20 students to the Viatorian Province Center, celebrations of La Virgen de Guadalupe and Las Posadas or The Inns – a re-enactment of the Holy Family's desperate search for accommodations in Bethlehem before Jesus' birth.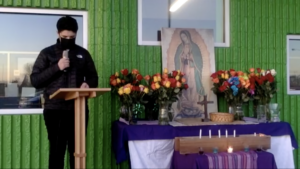 On December 10th, as part of CRSM's celebration of the Feast of Our Lady of Guadalupe, the rosary was led by National Hispanic Honor Society students and was live streamed on Facebook. watch it on our Facebook page
Campus Ministry would also be working towards CRSM's annual cultural exchange program with the students of the Red Cloud Indian High School. For the last four years, students from RCHS have traveled to Waukegan to experience CRSM and their families – volunteering and learning about justice issues in our community. Soon after, twelve CRSM students travel to Pine Ridge, South Dakota to experience the Red Cloud Community on the reservation. The friendships and experiences that result can last a lifetime.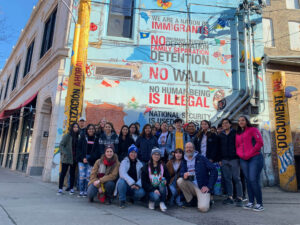 Though this year's exchange program can't begin in the spring, Cristo Rey and Red Cloud are still connecting – on December 16th, students, alumni and faculty from both schools participated in a virtual Advent Taize prayer service hosted by Red Cloud. Venecia Rodriguez, (CRSM '18) offered a faith reflection on the Feast of Our Lady of Guadalupe,
and CRSM Senior Fernando Rufino Friends & Family, performed a beautiful prayer song.
Red Cloud students and staff provided additional music, scripture readings, and led prayer intentions. Talin, a RCHS alum, sang a Lakota song.
"This past week we finished the first semester, an adventure and a challenge like never before.  Though we have missed out on a lot, including all our school Masses and prayer services, this TAIZE prayer service was an important part of bringing the semester to a close, it was a chance for the students from both schools to take time to breathe, and feel a sense of God's peace, strength and love."
                                                                                                                    -Jim Dippold, Director of Campus Ministry

Meditations During The Four Weeks of Advent
Advent is the beginning of a new year and a holy season to prepare for Christmas – the birth of Jesus into our world and the presence of Christ in our lives.  Students were introduced to Visio Divina, allowing God to speak to the heart and mind through sacred art.  Each day, students were invited to take 2-3 minutes for quiet prayer and reflection – to sit in silence, breathe deep and allow the week's image and music selection to speak to their hearts.