Having a positive impact on the community and in the world is the mission that Campus Ministry shares with its students, faculty, staff and, for that matter, the world. The "new normal" of the Covid-19 pandemic has made being a person for others, committed to faith and justice even more important, if not more challenging.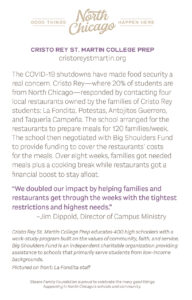 Thanks to Steans Family Foundation for the North Chicago shout out.
Ordinarily, the school year officially begins with a gathering of the whole school community at the Mass of the Holy Spirit. This year, because of COVID-19, small, outdoor prayer services are being held for the students.
These small gatherings are an opportunity for students to reflect and pray about the up-coming school year, the challenges of the COVID-19 crisis and the racial tensions in our communities.  There was music, a Gospel reading, a guided meditation and a closing prayer. The ceremonies were recorded and made available to students who were unable to attend in person.
Weekly volunteer trips are being carefully considered, and new events are being added. A  partnership with Shiloh Baptist Church will involve Cristo Rey students in packing grocery bags for delivery to people in need. Campus Ministry is working on an October event to host a mobile food pantry on campus that could serve 1000 families.
November will see Rise Against Hunger arrive on campus once again, partnering with CRSM volunteers to pack meals that will be shipped all over the world.
You can help by supporting these CRSM family owned restaurants!
La Fondita
916 Greenwood Ave., Waukegan
Taqueria Campeña
15 Commerce Drive, Suite 100, Grayslake
Antojitos Guerrero
1409 Washington St., Waukegan
Potestas
434 S. Green Bay Rd., Waukegan