The CRSM graduating class of 2020 met for a Zoom retreat on May 15.  Rather than gathering at the Viatorian Province Center for a final spring retreat as they typically have done, seniors and staff logged on to a video conferencing platform and reflected on the last four years together.  After a chance to reconnect and some Zoom games, students watched a senior slideshow that highlighted the growth of our 99 seniors since their freshman year – physically, intellectually and spiritually.  They shared memories of friendships made, hard fought achievements in the classrooms and at corporate work study, and the most important lessons discovered along the way.  Reflections were set within the context of the Gospel story of Jesus' encounter with two friends on the road to Emmaus (Lk 24).  In the story, when the friends reached their destination and broke bread together, they recognized that their hearts were burning and that the risen Christ was with them all along their journey in the sharing of their stories.  Our seniors were reminded that over the last four years God indeed has walked quietly alongside them, sometimes when they least expected it or failed to recognize it in the moment, and that every road can be a road to Emmaus.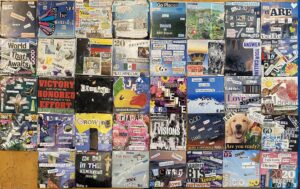 Seniors were given the opportunity to pick up retreat materials on campus before the retreat and were able to make a tile collage that will be added to the collection of all the previous CRSM graduating classes.
On Thursday, May 28, Fr. Foley, SJ, Chair Emeritus and Chief Mission Officer of the Cristo Rey Network, presided at the Baccalaureate Mass for the CRSM class of 2020. Streamed live on Facebook, you can watch this recording of the event as it happened on Facebook…
The CRSM community was able to pray with and for our graduates.  "We came together in 'this unusual way," said Fr. Foley, but in a way that we do at every Mass – to say thank you. To say thank you for the blessings of this school and the beautiful blessing that each one of our Seniors has been to the community at CRSM over the last four years. We celebrate our unity and togetherness in other ways than physical proximity,"  Fr. Foley said.  "Our true unity comes from the fact that we have common values, a common faith and a common goal in life."  No pandemic or amount of social distancing can take that away from the seniors and their family at CRSM.
Viva Cristo Rey!  Viva Class of 2020!