On July 24th, CRSM held its first (and hopefully last) socially distanced commencement ceremony in the parking lot of CRSM. A decidedly singular affair, it seemed somehow appropriate for this one-of-a-kind graduating class – a group which set new standards of excellence that future classes will strive to meet and exceed.
Family members, teachers, staff and guests gathered in the CRSM parking lot to honor Cristo Rey's 2020 Graduating Class.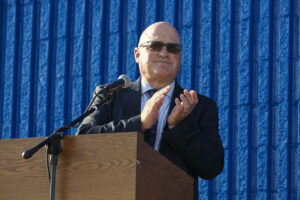 President Kendall spoke to students and their families praising their displays of resilience, determination and grit adding, "Jesus tells us that to those that have been given much, much is expected."

This Year's Honorees:
Kassandra Rodriguez – Valedictorian
Yesenia Gonzalez – Salutatorian
Edwin Morales – The Spirit of St. Martin de Porres Award
Academic Most Outstanding – Cristina Dominguez
Corporate Work Study – Ricardo Morales
Campus Ministry Leadership – Diana Carrillo
This year's Endorsers' Blessing was offered by:
Sinsinawa Dominicans
Society of the Holy Child Jesus
Clerics of St. Viator
In attendance: Br. Michael Gosch, CSV & Sr. Judy Seiberlich, OP
In his address to the graduates, Principal Odiotti recognized the
long list of achievements of the Class of 2020
99 students – the largest graduating class in CRSM's history

100% have been accepted into a four-year Bachelors Program
92% of students that started as freshmen are graduating
Two Evans Scholars, Two Posse Scholars, and Seventeen National Honors Society Members
99 students – every senior, received a rating of Satisfactory or better in their Work Study job performance review

A banner year in terms of Advanced Placement performance:
85% of the senior class earned AP credit on at least one exam, more than triple last year's state average of 28%
46 AP scholars – the highest number of CRSM students achieving AP scholar status – over double our previous best of 21
2020 Seniors were part of the inaugural group that created CRSM's Black Student Union
Senior participation in a formal art program was instrumental in launching the annual art exhibition
45 students (nearly 1/2 the senior class) earned the Illinois Seal of Biliteracy – Students can show proficiency in another language earning a 4 or a 5 on the AP (Advanced Placement) language exam or by taking a state approved test, such as the AAPPL (Assessment of Performance toward Proficiency in Languages) exam, and earning an Intermediate High or Advanced score.