September was an incredibly busy month for the Corporate Work Study Program. On the 15th of the month, they held the Annual Partner Kick-Off Meeting, hosting 50 business partners. Ten days later on the 25th, Abbvie partnered with the CWSP to lead Techies Day.

Partner Kick-Off Meeting
President Kendall welcomed the group, thanking them for their impressive support of the CWSP and bringing all up to speed about CRSM's academic achievements, successful efforts in keeping students safe, and the progress of CRSM's Phase 2 construction project.

This is an important event for the corporate work study department because it affords the opportunity to introduce a list of "best practices" for new supervisors – a program which has been developed and vetted for success by seasoned business partners.
The pandemic's effect on corporation's schedules for the return to their offices, made this year's meeting especially consequential. New presentations included:
The Logistics of Being an Onsite/Remote Supervisor in the Program.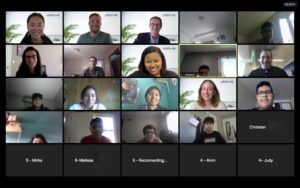 Techies Day
Twelve representatives from Abbvie worked with 22 students to gain experience in the process of developing technology applications to solve real-world problems. Gathering in small groups, students were challenged to develop and describe a tech solution from three main categories:
Virtual Environment – workplace and school and taking what students are experiencing and see if they can apply their own tech interests to the world. What is missing in the experience, what they think would be valuable additions, and taking into consideration UI/UX design aspects for possible items. Make sure tech is inclusive and interactive.
AI Machine Learning – Google Quick Draw – tells you what to draw and AI tool will guess what you're drawing in under 20 seconds. Will get students thinking about how to train AI models and how to train data to recognize different shapes or speech, etc.

Evolving World – a double topic. Aiding environmental issues in a way that tech can be used. Eg. open stream map, satellite images for disaster relief, fitness trackers and watches. We have tech on our bodies. How can we apply that to something as big as environmental issues?
If you know of  any companies that could benefit from our corporate work study program, please contact Brian Weinberg at: 224-219-9724  BrianWeinberg@cristoreystmartin.org