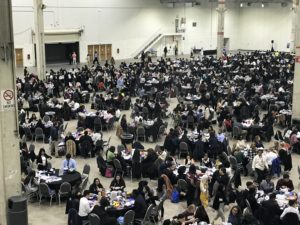 Thirty-one Cristo Rey seniors traveled to Navy Pier on October 22nd to attend the 13th Onsite College and Leadership Forum. The organization is reporting that more than 5000 interviews took place resulting in 1,073 admittances and approximately $40,700,000 in awarded merit aid.
The Cristo Rey contingent was composed of CRSM's own Knight Scholars – in tandem with Cristo Rey student scholars that work with College Bound Opportunities (CBO), and Waukegan to College (W2C).
After hours of preparation with CRSM counselors, CBO and W2C staff, each student spent the day interviewing with as many as eight colleges and universities. All 31 seniors had interviews with institutions which they had previously notified of their interest. Most of the CRSM participants received an offer of admission on the spot. It is likely that all will receive multiple acceptances from both Onsite notifications and from those colleges that only provide admissions decisions after the event.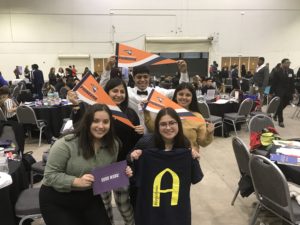 So far, over $550,000 in yearly scholarships has been offered to Knight Scholars alone.
Beth Kainic, Sharon Holdvogt and Lori Felix of the CRSM College Counseling Department are projecting another successful event for the 31 seniors that participated.
This marks the beginning of college acceptances for the Class of 2020. Each year nearly 100% of Cristo Rey St. Martin graduates are accepted into a 4-year college or university. The outlook for this year's senior class is no different. Good luck to all 99 of our aspiring collegians!