Cristo Rey St. Martin students know what it's like to keep a full calendar. Their days of challenging academic schedules, demanding corporate work study jobs and family responsibilities can take on a frenzied pace. Now and again, we all need to give ourselves a quiet "space" – to gain insight and grow deeper relationships with one another and with God.
On Thursday, September 19th, the CRSM Senior class did just that at their Fall retreat at Camp Duncan in Ingleside, IL. The theme of the retreat was titled; Discernment, making prayerful decisions.
The purpose of this 2-day retreat was to connect with classmates in meaningful ways, encounter God's presence through prayer, reflection, discussion and fun – and finally, to practice the techniques for Ignatian discernment*
Both Thursday and Friday were filled with activities that drew classmates closer together, challenged them to take leaps of faith, helped them re-examine what is comfortable and safe, and think about what encouragement and support will mean in their lives. These were days reserved for team building and finding moments of grace – all metaphors for the challenging steps they will be taking in May.
An activity which asked students to navigate a maze that couldn't be "seen" – using other people's footsteps and learning from their mistakes was a prelude to a reflection on the beloved prayer by Thomas Merton:
My Lord God,
I have no idea where I am going.
I do not see the road ahead of me.
I cannot know for certain where it will end.
Nor do I really know myself,
and the fact that I think I am following your will
does not mean that I am actually doing so.
But I believe that the desire to please you
does in fact please you.
And I hope I have that desire in all that I am doing.
I hope that I will never do anything apart from that desire.
And I know that if I do this you will lead me by the right road,
though I may know nothing about it.
Therefore will I trust you always though
I may seem to be lost and in the shadow of death.
I will not fear, for you are ever with me,
and you will never leave me to face my perils alone.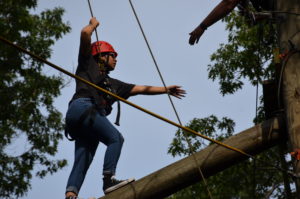 The high and low rope activities are all about confronting one's fears and finding sources of courage. As it turns out, what takes place on the ground is just as important as what is taking place above. Classmates look up, observing the aerial activities, and send their support and encouragement to the person suspended forty feet in the air. Leaders of the high ropes activity noted this year's senior class was as supportive as they had ever experienced.
Student reactions to the question: What did you learn?
One thing that I learned is that happiness and staying healthy should be a priority when looking ahead and setting goals for myself.
The retreat helped reassure me that everything was possible no matter where we come from or who we are.
One thing I learned on this retreat is that its okay to not know what you want to do in life, and that in whatever way God will be with you to help you.
I have to reflect on what the choice will bring to me; Will it bring happiness? Bring me closer to my goal? Better my relationship with God? I have to pray and reflect about my choices and possibilities.
I learned that it is okay to take risks and to challenge ourselves because it will be a lot of fun and meaningful in the end.
Something that I learned at retreat is what I am passionate about and what I feel that my calling is. It's okay not to have everything figured out, everything will work out in the end.
That you are not alone, there will always be people around you that would help you throughout your journey.
Each day always included recreation time – archery, soccer, volleyball, artistic projects and of course, campfires with marshmallows and s'mores.
————————————————————–
* Ignatian Discernment – Human beings are moved by a dense complex of motives, both in the things we do from day to day and in our big decisions. What drives a young woman to become a doctor or a young man to be an engineer? Many things contribute: success, altruism, interest. Or what drives a woman who has smoked for years to quit or an obese man to get thin? Again, many things contribute: fear of death, desire for health, concern of family. But they all interact in a kind of movement that eventually drives the person to act. Master Ignatius learned to think about those dense complexes of motives—images, ideas, attractions, revulsions—as "spirits."
We can all name many spirits. There is school spirit, in which everyone cheers together for the football team. There is fear, which can depress an entire city, and exultation, which can cause a whole nation to rise up. But spirits are not only secular. A thrill of devotion fills St. Peter's Square when a saint is canonized. A spirit of prayer drives people to make retreats.